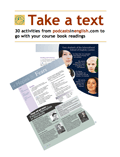 Take a text
Take a text is a collection of 30 activities that you can do with your course book readings. There are 23 pre-reading activities, and 7 post-reading activities.
Each activity has information on what it practises, its uses, preparation before the class and clear intructions on what to do in class. There are also example texts used from a variety of course books so the activities are super clear.
Who is the book for?
■ It's ideal for new teachers. We remember not knowing what a 'jigsaw' reading was, or a 'dictation race'. We also remember thinking that we could do a lot more with a text in a course book, but not knowing what exactly. Over the years we have collected loads of exciting ideas, and these are what we want to share.
■ It's great for more experienced teachers too. Having so many ideas collected together means that it's a practical, easy reference book and one that should remind teachers of tasks they may have forgotten about. We're sure there are some new ideas included too!
Is it free?
Almost! It's just 5 Euros.